Seminar für Jedermann
Feldenkrais & Voice
Diese Seite wurde nicht ins Deutsche übersetzt, deshalb wird einiges in Englisch angezeigt. Oben auf dieser Seite kannst Du eine andere Sprache wählen.
Feldenkrais & Voice – Unfolding Resonance
Movement, breath and voice are closely linked in the development of the human being. These three systems are intertwined and mutually dependent. Our voice gets its power and its specific shape from the fact that we move and stand upright in the field of gravity. Our voice becomes full and resonant when our body is permeable for breathing movement and vibrations. The more awareness we have for our inner body spaces and the space surrounding us, the more presence we develop. Presence that also becomes audible acoustically.
In Christoph Habegger's online seminar series "Feldenkrais & Voice – Unfolding Resonance" we will work with our own voice, experience it and develop it further with the help of two methods: Feldenkrais and Atem-Tonus-Ton ("Breath-Tonus-Tone"), a method founded by the breathing therapist and body psychotherapist Maria Höller-Zangenfeind.
This workshop is open for voice professionals and non-professionals. It is designed for all people who are interested in experiencing their voice in connection with their entire body and who would like to grow personally through this work.
The 4 days of this online seminar have the following main topics:
Day 1: Our relationship with the floor
The dynamic relationship to the ground takes place between being carried by the floor and being upright against the floor. Ideally, our diaphragm can move freely and our breathing movements can spread into the lowest parts of our torso. The support of the legs and the pelvis allows for a powerful voice, while the sensitive areas around the larynx remain relaxed.
Day 2: The chest
The thorax, together with the spine, ribs and sternum, offers a stable and flexible space. It contains the heart and lungs and connects to the diaphragm, our main breathing muscle, during the respiratory movement. If bones and tissue are able to absorb and conduct the resonance vibrations, warm, rich and deep sounds are produced. This can be heard and felt especially in the speaking voice.
Day 3: Hands, arms, shoulder girdle and torso
The connection of the hands and arms, shoulder girdle and trunk affects our breath and voice. The sensitive areas around the larynx, our "voice generator", should feel light and wide, and ideally our gestures support our personal expressions.
Day 4: The spaces in our head
The throat, mouth, nose and skull contain spaces that can be experienced and enlivened through movement, conscious perception, breath and vibration. They open and feel wider, freer and more permeable. The voice gains in brilliance and range, communication becomes more lively. Our diaphragm is stimulated and our entire body tension is balanced.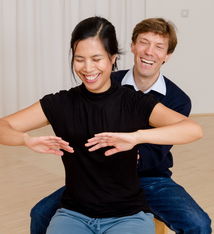 About the teacher
Christoph Habegger, born in Zurich, has lived in Vienna since 1991. After studying at the Vienna Conservatory, he worked as an actor and musical performer. He completed his Feldenkrais training with Carl Ginsburg in Lewes, England. This was followed by further training in Atem-Tonus-Ton and Embodied Life. He teaches in Vienna, is a trainer candidate for Feldenkrais training programs and a lecturer and director of Breath-Tonus-Tone supplementary training courses in Europe and Japan.
Please note:
For your participation in this online seminar please have a mat and a stool or chair ready.
Dieses Webinar findet live über die Online-Konferenzsoftware "Zoom" statt. Es beinhaltet Lektionen in Bewusstheit durch Bewegung (sogenannte "ATMs"). Bitte stelle daher sicher, dass du eine Matte oder eine Decke für die Übungen zur Hand hast, wenn der Kurs beginnt. Auch ein flaches Kopfkissen (zum Beispiel ein Handtuch) ist ratsam, bitte achte nur darauf, dass es nicht zu dick oder zu weich ist.

Du kannst über einen Computer, ein Tablet oder dein Smartphone an dem Webinar teilnehmen, deine Kamera und dein Mikrofon müssen für die Teilnahme nicht eingeschaltet werden.

Bitte registriere dich für das Webinar, indem du auf die Schaltfläche "MELDE DICH JETZT AN" klickst.

Sobald du die Teilnahmegebühr entrichtet hast, erhältst du eine Bestätigungsemail mit deinem persönlichen Link zur Teilnahme an dem Webinar. Bitte speichere dir diesen Link ab und gebe ihn nicht an andere weiter.

Wenn du Zoom zum allerersten Mal verwendest, wird dir vorgeschlagen, die Zoom-Software oder App zu installieren. Dies ist für einen reibungslosen Ablauf der Sitzung ratsam. Bitte plane für die Installation der Zoom-Software/ App 10 bis 15 Minuten zusätzlich ein.
---
Bildnachweis
Header photo – © Ahmad Odeh
Photo of Christoph with client – © Xenia Bluhm